Who knows the right amount of water for your soil? Metos Knows.
Soil moisture monitoring and irrigation management.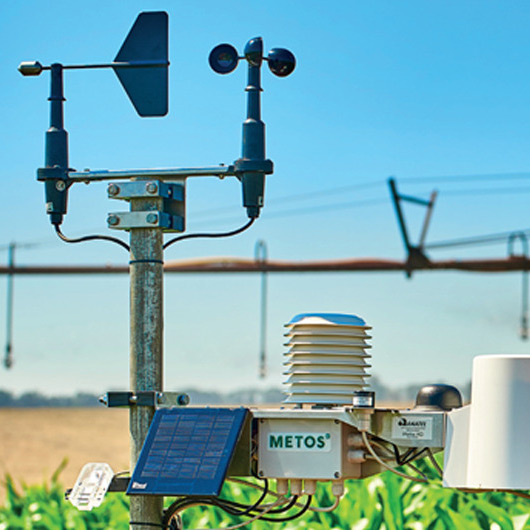 Measure. Monitor. Manage. Use less water and fertilizer – produce more with less.
Better knowledge of when to start and stop the irrigation will help protect the most important resource – WATER! Run your irrigation system when the plants ask for food to avoid fertilizer leaching and to save energy without sacrificing quality and yield.
CUSTOMIZABLE SOLUTIONS, SCALED TO YOUR FARM
METOS® Canada offers a wide range of hardware and software solutions for efficient and cost effective soil moisture monitoring and irrigation management. With iMETOS at your fingertips, you drive the best irrigation strategy for your fields, based on information right from your farm. Seamlessly keep tabs on remote fields, weather and forecasting, water management, disease modeling, insect pressures and nutrient needs.
Capture and interpret site specific information from your fields every five minutes, easily accessible through your mobile and desktop devices so you can be alerted and troubleshoot before there is a problem. The weather forecast is updated on an hourly basis, available for a 3 to 7-day window and includes a number of variables – quantity and probability of precipitation, temperature, wind speed/direction, leaf wetness, relative humidity, and evapotranspiration. This enables you to use the best soil moisture-irrigation strategy for your fields. For example, understanding soil moisture values in a dynamic root zone allows the definition of a crop and soil specific growth season template, while near real-time field measurements, combined with forecasted evapotranspiration; provide an insight into future water use.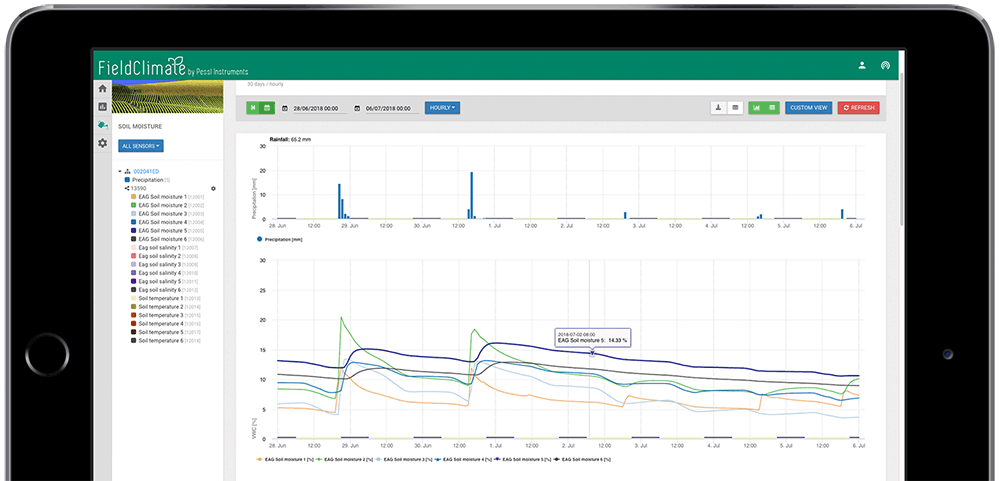 IRRIGATION MANAGEMENT USES
Irrigation and fertigation of numerous crops
Targeting yields in irrigated and dryland crops
Soilless crop irrigation
Frost alert and frost automation systems
Soil moisture analysis for flood monitoring

DETERMINING WHEN AND HOW MUCH IS THE KEY
With METOS® Canada sensors you can measure soil moisture, temperature and other information key on your farm. Choose the sensor (or combination of sensors) to create the solution that best matches the characteristics of your soil, crops, irrigation system, terrain and field management practices.

The sensors will supply the grower with daily water consumption of the crop within the different soil layers as well as ET (Evapotranspiration) data. FieldClimate software then assess the data to determine the optimum time for irrigation. Our DSS for irrigation will help prevent both damage due to drought stress and excessive watering.
FieldClimate IRRIGATION MANAGEMENT SETTINGS:
Calculation of an average root zone soil moisture graph defined by the user (the upper full amount known as full point or field capacity and the lower amount or refill point).
Various sensor layers can be displayed in graphs in a number of formats, including standard, stacked or average.
Full and refill point budget lines are color coded so users can clearly see the range of soil moisture for optimal management – red (deficit), green (comfort zone) and blue (excessive soil moisture).
OTHER PARAMETERS AND TOOLS FOR COMPREHENSIVE WATER MANAGEMENT:
Weather measurements and forecast, such as precipitation amounts and timing.
Vapor pressure deficit.
Growing degree days (phenological stages).
Current and forecasted evapotranspiration ET0.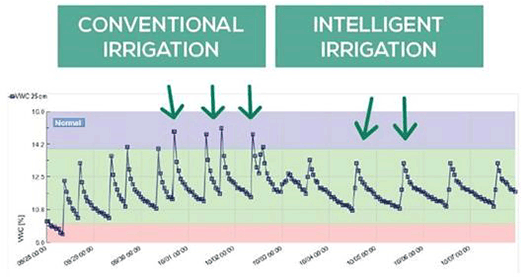 iMETOS IRRIGATION MANAGEMENT SYSTEMS CAN BE USED IN ALL IRRIGATED CROPS. 30 YEARS OF EXPERIENCE HAVE SHOWN THAT GROWERS CAN CUT DOWN ON UP TO 50% OF IRRIGATION RUNNING TIME AND SAVE ENERGY, WATER, SERVICE COSTS, FERTILIZER AND HAVE HIGHER YIELDS WITH LESS INPUT.
The crop shown in the graph is initially subject to two irrigation interventions on a daily basis. Thanks to probe monitoring of volumetric water content, it was observed that an acceptable soil moisture level for the crop could be maintained even with only one irrigation intake per day.
Result: Immediate 50% water saving.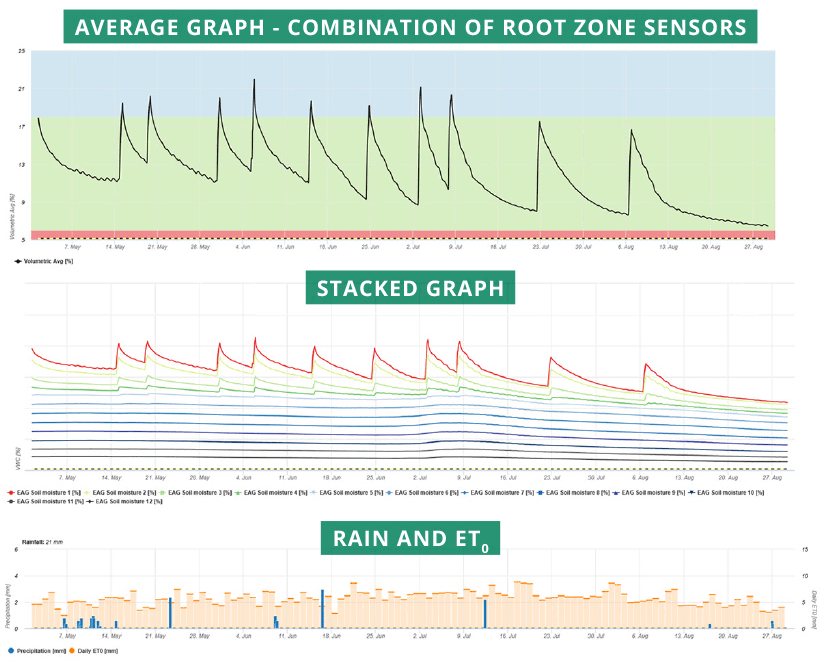 METOS® Canada helps you know, grow and save.
Water Savings – better timing and potential reduction of water use
Higher Yield – safeguard and maximize your crop's potential
Better Quality – optimize quality based on crop health
Fertilizer Savings – reduce runoff or deep leaching of nutrients and optimize fertilizer use
Crop Health – manage water while balancing plant disease, stimulate root development and provide frost protection
Real-time Alerts – manage a number of parameters, including refill and saturated soil moisture levels, pump activation or failure and traceability of all events
Save Time – efficient processes enhance business operations
Lower Environmental Impact – less water waste and ground water contamination