Who knows exactly how your crop is developing? Metos knows.
CropVIEW offers a remote high-resolution view of your crops, fields and orchards so you can monitor your crops as they grow.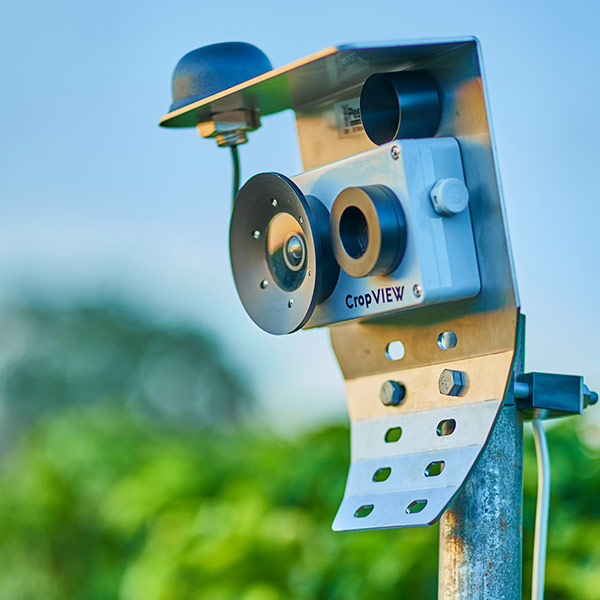 REMOTELY MONITOR YOUR FIELDS, CROPS AND ORCHARDS THROUGH THIS TIME-SAVING PHOTO DEVICE
CropVIEW® uses a camera system with integrated electronics (camera, modem, power source with solar panel) to monitor the growth and development of your crops. Installed in the field where it's needed most, the device runs efficiently on a combination of solar and battery power.
A 10 megapixel camera takes periodic high-resolution pictures of your field, crop or fruit and automatically uploads the images (through a mobile network) to the FieldClimate platform where results can be accessed on computer or mobile devices. Data is available in real-time and can be stored for further analysis. For apples only, photos are analyzed with automatic detection of fruits as well as measurement of fruit diameters.
When installing your CropVIEW® station, you need to take into consideration the sun position – make sure that your device is not facing directly into the sun at the time photos are scheduled to be taken.
HOW MANY STATIONS DO I NEED?
You may need one device per growing site, or if there are different varieties or crops at the growing site, you may want more devices if you wish to monitor them all. The CropVIEW comes in several variations (Panorama, Tele, Dual and Stero) to make it flexible enough to use in farm fields, research plots, crop canopies, orchards and more.
CropVIEW saves you time during your busy season. With this powerful high-resolution camera system, you no longer have to walk your fields to see what's happening in your crop.
know exactly what's going on in your field at any given time
carefully monitor the growth of your crop or fruit so you can optimize your resource use
continuous photo capture gives you a complete daily picture of crop quality and yield development
from your mobile device or computer, check seed germination or the effect of fertilizers and chemicals on your crop
inform threshold decisions for disease and pest management with accurate visual references
build an informative time lapse of your crop growth over an entire season
your photo documented history gives you the ability to compare crop growth to previous seasons
CropVIEW® DUAL – Equipped with two 10 MP cameras – panoramic and tele.

CropVIEW® Panorama – Equipped with one 10 MP camera – panoramic

CropVIEW® Tele – Equipped with one 10 MP camera – tele.

With CropVIEW you receive a time lapse of your crop growth so you can see your crop history from seeding to harvest.
CropView can also be used in livestock farms facilitating the improvement of the breeding process and ensuring the well-being of the animals. This high-resolution camera, supported with AI, can closely monitor the growth of animals, their weight gain or loss, and can detect injured animals or animals in distress.

| | |
| --- | --- |
| TECHNICAL SPECIFICATIONS |   |
| Housing | Power supply and sensor support box: 41 cm L x 13 cm W x 7 cm H |
| Weight without sensors | 2.2 kg |
| Camera module | Stainless steel holder with IP65 box 27 cm L x 17 cm W x 9 cm H weight: 1.5 kg |
| Power supply | 6 Volt lead acid 4.5 AH battery with solar panel |
| Model/Type | Cortex M4 processor module with integrated Communication model for UMTS/LTE operation" |
| Camera and optics | MT9J003 10 Mega Pixel 2/3" CMOS sensors – Optics DSL377A-650-F2.8 2/3" Lens with 2.5 mm Focal length and DSL901J-650-F3.0 2/3" Lens with12 mm Focal Length |