Who knows how many bugs are hiding in you field? Metos knows.
iSCOUT offers remote insect monitoring to keep an eye on insect pressures that can affect your crop.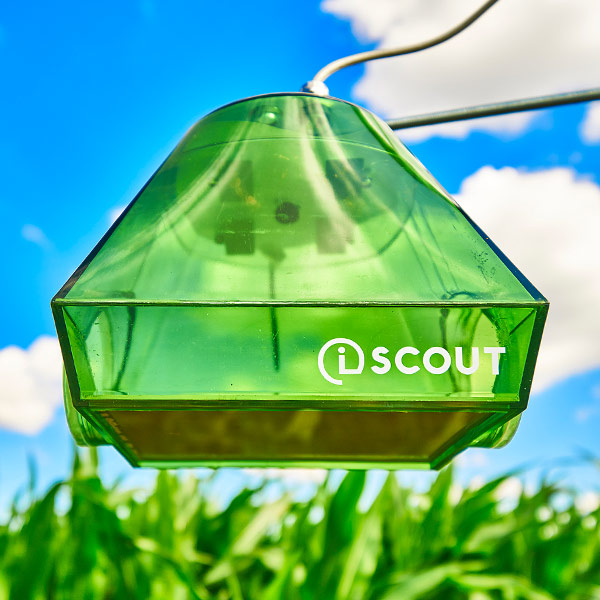 REMOTE INSECT MONITORING INFORMED BY ARTIFICIAL INTELLIGENCE ALERTS YOU BEFORE PESTS BECOME A PROBLEM
Let iSCOUT from METOS Canada be the eyes in your field with a solar-powered, high-resolution camera inside an insect trap. Time-lapse photos paired with artificial intelligence give you better pest identification and count graphing. Remote accessibility from your computer or smartphone lets you make control decisions when the time is just right.
iSCOUT® is an insect trap with integrated electronics (camera system and modem powered through a solar panel and/or battery) and a sticky plate. It can be hung where it's most needed in the field, and features a lightweight design. The 10 megapixel camera takes high-resolution pictures of the sticky plate and the built-in computer vision software recognizes the insects from photos.
Images are sent via LTE to the FieldClimate platform where they are analyzed with artificial intelligence (AI) software. The results are then visible on web or mobile devices and captured photos and data are stored online for future analysis. Data is real-time and photos show rectangles around the target insect, as well as summarized data of the daily count, targets in total and development of insect population during the season.
HOW MANY STATIONS TO INSTALL? 
METOS Canada provides different types of traps, to monitor a broad spectrum of insect species, but the type and number of devices you need will depend on the size of your field and the insect you are targetting. The distribution of insects within a field can also vary widely. You may need to use multiple traps in larger fields, or different variations of iSCOUT® if different pests are monitored in the same location.
Insect infestations can be devastating for your crops, and they can happen fast. iSCOUT® gives you extra 'eyes in the field' so you can:
monitor a broad spectrum of insect species across several crops
see infestations in real-time through remote monitoring from your mobile device or computer
be alerted early with the first occurrence of inset pests in your crops
act on IPM strategies proactively, when they are needed most
decide when a mass trapping program would be most beneficial to your operation
get help with insect identification through the iSCOUT's powerful AI-informed software
review stored photos and data for an accurate understanding of insect populations throughout the season
iSCOUT® Pheromone
Designed and developed to catch insects with insect specific pheromone lures (codling moth, european grape berry moth, tomato leafminer and many other species). iSCOUT includes a metal plate where sticky paper and a pheromone lure can be applied.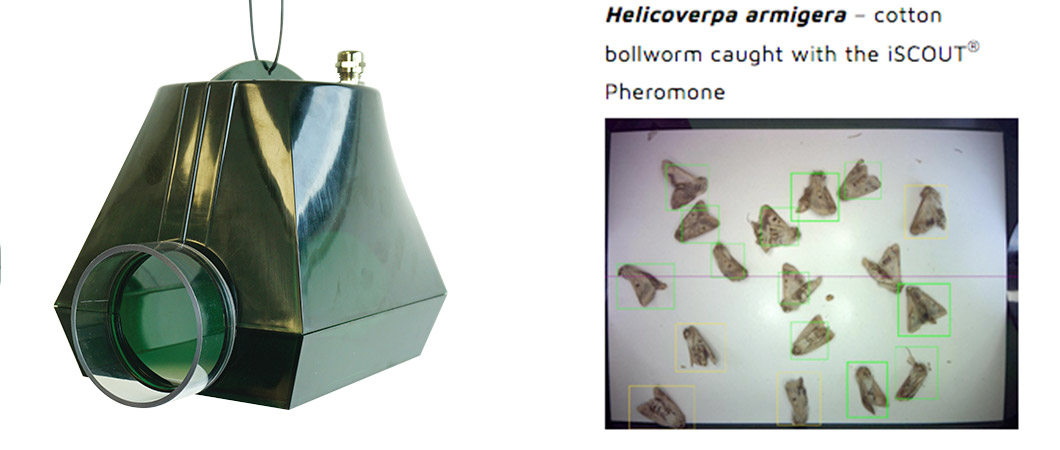 iSCOUT® Fruit Fly
Designed and developed for catching fruit flies (spotted wing drosophila suzukii, olive fruit fly). Includes 3 mm nettings on entries, so that bigger flies (house flies) and other non targets are not able to enter the trap. Tank for feeding lure and metal plate with sticky paper are included. If you want to catch and monitor bigger flies, you can remove nettings from the entries.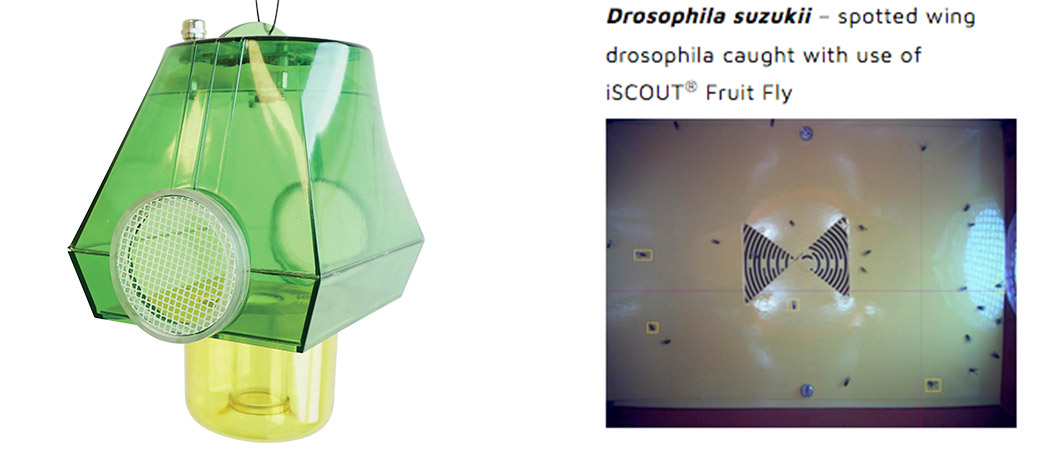 iSCOUT® Bug
Designed and developed for catching bugs (marmorated stink bug halyomorpha halys and other species). Includes bottom entry with landing platform – pyramid trap and closed side entries. Once the bug enters the trap, it can no longer exit and gets caught on a sticky paper. For catching h. halys aggregation pheromones are placed inside the trap.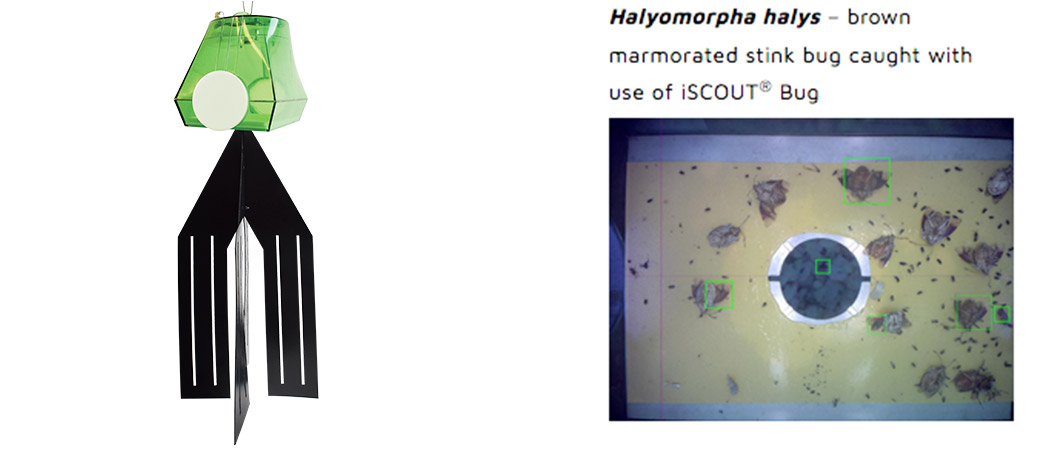 SCOUT® Color Trap
Developed for insect monitoring using a design where insects are attracted by colored plates with sticky traps:
blue: frankliniella occidentalis; thrips tabaci, and more…
yellow: white flies, leafminers, sciarid flies, and more…
white: apple sawfly, plum sawfly, plum fruit sawfly, raspberry beetle, and more…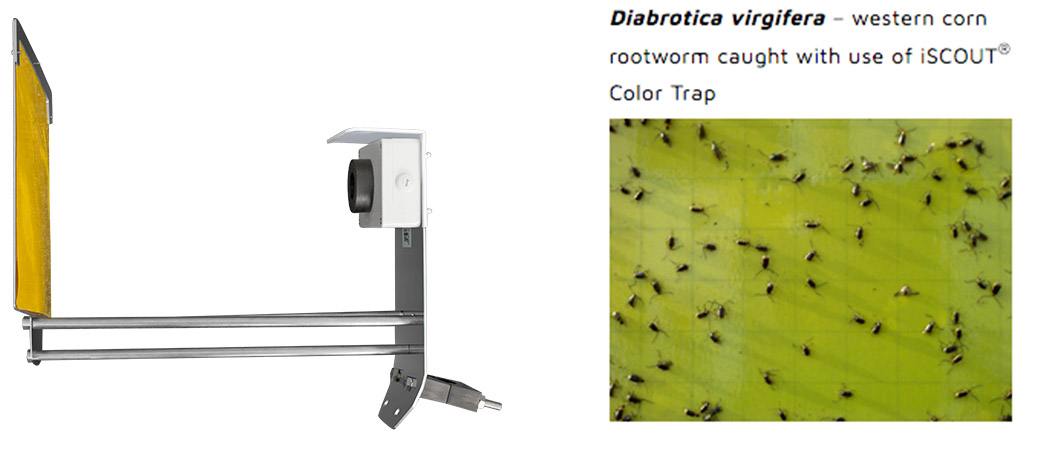 A number of different insects can be caught by different types of iSCOUT® devices. Here are some of the insects that can be caught with iSCOUT®:
Adoxophyes orana – summer fruit tortrix
Agrotis segetum – turnip moth
Amyelois transitella – navel orangeworm
Anarsia lineatella – peach twig borer
Archips podana – fruit tree tortrix moth
Autographa gamma – silver Y moth
Cydia funebrana – plum fruit moth
Cydia molesta – peach moth
Cydia pomonella – codling moth
Epiphyas postvittana – light brown apple moth
Eupoecilia ambiguella – european grape berry moth
Helicoverpa armigera – cotton bollworm/Corn earworm
Helicoverpa punctigera – native budworm
Lobesia botrana – european grapevine moth
Pandemis heparana – apple brown tortrix
Phthorimaea operculella – potato tuber moth
Plutella xylostella – diamondback moth
Spodoptera frugiperda – fall armyworm
Tuta absoluta – tomato leafminer
| | |
| --- | --- |
| TECHNICAL SPECIFICATIONS |   |
| Memory | 1 GB |
| Internet connectivity | LTE class 1 |
| GPS receiver | Yes |
| Dimensions of trap housing without control unit | 20 cm L x 15.5 cm W x 17 cm H |
| Weight without control unit | 0.93 kg |
| Logging interval | 10-120 min (user selectable) |
| Transmission frequency | Max. 3 times per day (usually once a day) |
| Battery | Rechargeable Lead acid battery 6V, 12 Ah |
| Solar panel | Dimensions: 17.5 x 17.5 cm, 7.2 Volt, 333 mA |
| Camera | 10 megapixel camera |